Numbuh 4

"Numbuh 3, I don't know."

Name

Wallabee "Wally" Beatles

Gender

Male

Hair

Blonde

Eyes

Green or Blue

Age

10 (start of the series)
11-15 (through out the series)
16 (since OPERATION DECOMMISIONED)

Birthday

August 11th

Appearance

Slender, blonde hair, orange hoody sweater, blue jeans and white shoes

Family

Wallabee Beatles, Jr. (son)

Species

Human

First Appearance

No information
Wallabee "Wally" Beatles a.k.a. Numbuh 4 is the brash and impulsive hand-to-hand combatant 10-year old handsome Australian boy of Kids Next Door Sector V. He is close friends with Numbuh 2 and has a crush on his teammate, Numbuh 3. He has a son.
Appearance
Edit
Wally is easily noticeable by his blonde hair with its bowl-shaped cut. He wears an orange hoodie sweater and blue jeans. His eyes, like almost the entire Sector V, are not always visible. He is also the shortest Sector V member, for which he is picked on a lot (for example,
Numbuh 5
called him "sport" in
Operation: M.A.T.A.D.O.R.
). Another identifiable trait is his Australian accent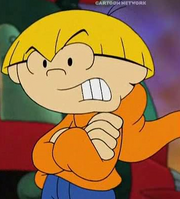 Ad blocker interference detected!
Wikia is a free-to-use site that makes money from advertising. We have a modified experience for viewers using ad blockers

Wikia is not accessible if you've made further modifications. Remove the custom ad blocker rule(s) and the page will load as expected.