Numbuh 101


Vital statistics
Title
{{{title}}}
Gender
{{{gender}}}
Race
{{{race}}}
Faction
{{{faction}}}
Health
{{{health}}}
Level
{{{level}}}
Status
{{{status}}}
Location
{{{location}}}
Numbuh 101
, a.k.a.
Matthew
, (
Matt
for short), is the head curator at the
Kids Next Door Seriously Cool Museum of Artifacts and Stuff
, which holds numerous devices and other items of interest from throughout the KND's history, including the
KNDNA Tracker
and
Recommissioning Module
. He, like Numbuh 1 and Sector E, believes in
Numbuh 0
. He is an obsessive fan of
Sector V
, and is in possession of items such as
Numbuh 5
's blurpleberry ice cream supreme,
Numbuh 4
's report that defeated
Valerie
, and Numbuh 1's
Rainbow Monkey
briefs from
Operation: B.U.T.T.
He is voiced by Ben Diskin.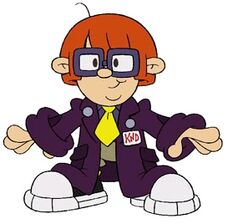 Ad blocker interference detected!
Wikia is a free-to-use site that makes money from advertising. We have a modified experience for viewers using ad blockers

Wikia is not accessible if you've made further modifications. Remove the custom ad blocker rule(s) and the page will load as expected.