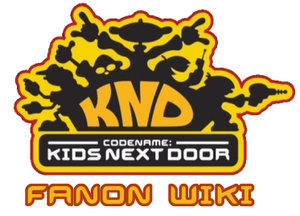 Welcome to Kids Next Door Fanon Wiki!
KND Fanon Wiki is a Fanon Wiki that anyone can edit!
News and Special Events from Users!
Edit
Hello people! (Or at least people who are currently on this) I'm the creator and founder of this wiki and I'm gay..., so feel free to contact me! -Ryushusupercat

GOOD NEWS: I just signed the petition for Codename: Kids Next Door season 7. SpeedyMan93 04:19, October 23, 2013 (UTC)
Latest activity
Edit
Ad blocker interference detected!
Wikia is a free-to-use site that makes money from advertising. We have a modified experience for viewers using ad blockers

Wikia is not accessible if you've made further modifications. Remove the custom ad blocker rule(s) and the page will load as expected.